Business-to-Business credit card payments are widely conducted with business class cards, corporate-level rewards cards, purchasing cards, and GSA SmartPay. Payments via these cards are eligible for reduced processing rates when Level 2 or Level 3 payment transaction information is included with the submitted settlement data. A merchant needs only the tools and ambition to provide this "enhanced" data in order to capitalize on the achievable savings. These savings can become significant, particularly when processing big ticket transactions.
Process-Direct helps merchants take advantage of Level 2 and Level 3 payment processing with a complete package of services and tools to accomplish this with confidence and ease. These resources include a merchant account setup to realize interchange-rate payment processing, a compatible payment gateway, and a Level 2 & 3 capable payment transaction terminal or software processing link.
The necessary key component for most merchants is the virtual online terminal that (A) recognizes a card number that is eligible for Level 2 or 3 reduced rates and (B) provides the ability to enter and pass this data to the payment processor. How it works - when the merchant enters a card payment transaction through the online virtual terminal, the return authorization data contains information about the card type being used. For cards that are eligible for Level 3 processing, the user is then prompted to enter the enhanced Level 3 data for the transaction into the provided data fields. This additional data can be appended to the payment transaction information at any time prior to the day's settlement batch-out.
Another approach involves an API interface which allows merchants who use more sophisticated payment processing software to pass the necessary information to the payment gateway.
Level 3 payment transaction processing is available for as little as $25.00 per month - depending on capability desired and bundled services included. With multiple solution providers for Level 2 and 3 payment transaction processing Process-Direct is able to provide the services which best suit the merchant's needs.
The information below summarizes the available discounts and potential savings to be achieved by taking advantage of Level III transaction data rates.
Typical Card Eligibility and Rates:
Comparison of Data Required to Achieve Preferred Level 2 and Level 3 Processing Rates: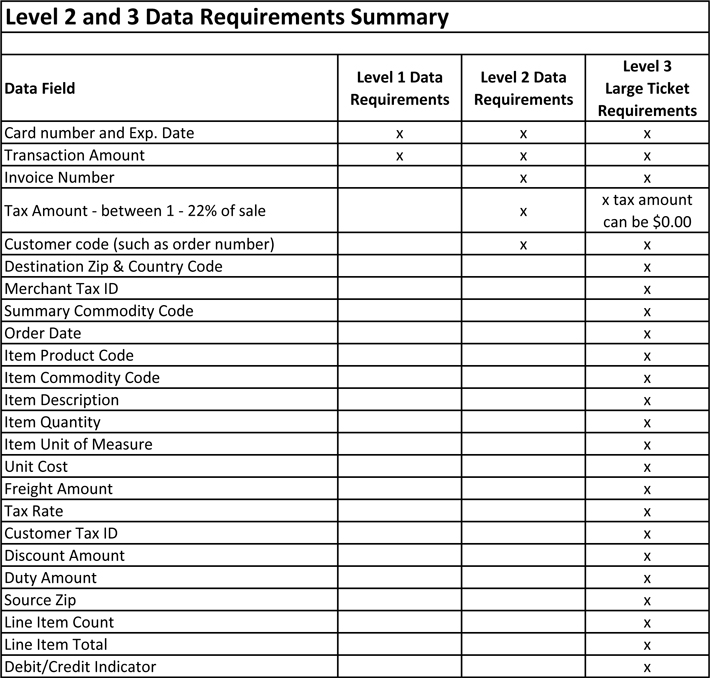 Comparative Data Rate Cost Examples for Typical Card Types:

Process-Direct Merchant Services helps business owners and accounting personnel understand, evaluate, and implement cost-effective solutions for online payment gateways, website payment transactions, and merchant accounts for charge card, eCheck, and ACH payment processing.